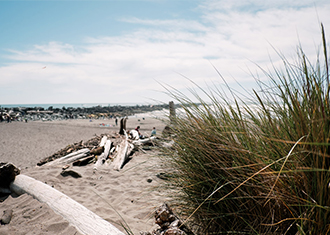 You could spend the day out on the water, catching fish and enjoying a boat ride, or you could come further inland to shop, sip, dine, and explore.  You could even grab a kayak and spend hours meandering throughout the canals, but Ocean Shores has coastline all around us, so here are some of our favorite things to do without ever leaving the shores of the Shores.
Click to learn about Shopping at Ocean Shores.
Into the Sea
Before the sand that we love, there is the sea. And our coastal surroundings make Ocean Shores an ideal place for so many wonderful activities. Care to walk out thigh-deep in Pacific Ocean waters and fish for perch and other local catch? Go right ahead. Or perhaps you're more of an adventurer. May we suggest kitesurfing across the rolling waves, or surfing as the tides crash in? If you're more into fun than thrill, there is always an opportunity to wakeboard, skim board, paddleboard, or kayak off the coast of the Shores. However you want to enjoy the open ocean waters, we have the spaces for you.
Up to the Edge
Right around high tide, especially in the colder months, there is a wonderfully ageless group a hunters scavenging the coastline for treasures. What are they looking for? All kinds of things! These beachcombing enthusiasts are in search of something rare, whether it's an oceanic find or an unexpected wash-up from a distant place or time.
Of course, sea glass and beautiful agates are always sought after. Agates are a pressure-formed microcrystals that comes in multiple color varieties. If you do find them, know that they are a result of coastal erosion, and are not from the ocean floor, but they are still beautiful and individually unique.
And the shed shells of our nearby sea life are terrific keepsakes for visitors and locals alike. But in order to find some truly rare items, you need to be first to the spot, and you'll need some luck. The World Shipping Council estimates that approximately 350 shipping containers are lost overboard due to bad storms and rough seas. So you never know what might have spilled over and then washed up for you to find. Every day can be a coastal treasure hunt.
A Walk to Remember
Down by the southernmost end of Ocean Shores are all kinds of hiking and wandering spots. You can take short walks and ocean gaze, or walk for miles enjoying the surrounding nature and the sounds of nearby waves. You could be a birder looking for peregrine falcons out on Damon Point or watching the pelicans swoop down and fly just above the waves.
Hiking along the North Jetty can bring you right up to the crashing waves with great views of all kinds of barnacles, or trekking back over to the Oyhut Wildlife Recreation Area leaves the ocean and bay within earshot.
When you explore the shores here, you can really travel from the top of our city's coastline, all the way around the south end.
Too Tired? Try Four-Tired!
A wonderful feature of portions of our beach access is its drivability. You can go from road to sand, and see the entire western coastline from the comfort of your very own vehicle. This is also a perfect way to experience the wonder of a Pacific Coast sunset for young families with smaller children, or those who worry about being able to walk so much of the Shores.
Just keep your eyes peeled for beachcombers, hikers, fishers, and driftwood, so we all can enjoy this truly unique PNW experience.
Ocean Shores is Ocean Shores
After visiting  the best breakfast restaurants in Ocean Shores, you could start the day beachcombing for treasure or catching waves on a board of your choice, then try to catch your own lunch after you cast off out into the Pacific. After that, bring everyone together and drive out as far as you need to, finishing your evening roasting whatever you like by the fire.
And that's just one way to spend the day in Ocean Shores! We haven't even scratched the surface of all the ways you can explore the Shores away from the ocean. But you can certainly just come see for yourself. We will be holding a sunset view for you!
Beach Bonfire
And when you've got all of the family and friends together, whether you're parking the cars and walking in from all of the available beach access points, bring some dry firewood and make a full experience out of your Ocean Shores stay – make your family trip perfect with a little beach bonfire!
You can use available driftwood for your fire, but whatever you find may be wet. So if you didn't travel into the Shores with your own firewood, pick some up at a local store, and stop by the IGA to grab all the fixings for hotdogs and smores and you are set for an epic beach experience.
Would you like to learn more about water activities in Ocean Shores?
Visit our water activities page and find a downloadable guide for all things water activities.