This is the largest miniature golf course on the Washington Coast, with 36 holes of fun for the whole family—day and night. Putt over the bridge, through a lighthouse, and around rocks and boulders. Both sand and water hazards await you for the ultimate game-time challenge.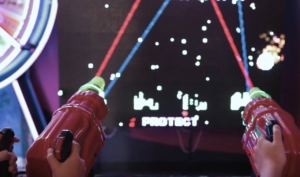 Make a splash in 90,000 gallons of water! Our bumper boats are smooth riding and safe for all ages. Hop in with the whole family to battle fellow seafarers and dodge fantastical sea monsters. Buyer beware—you may get wet!
We have the largest collection of video games and games of skill in all of Ocean Shores. Plus, enjoy a selection of classics, including air hockey and pinball. Shoot baskets, bowl, and win prizes! Test your stealth, agility, and speed in the Lazermaze! How does it work?
Navigate through the maze as quickly as possible without hitting the lasers. Choose from two daring games.