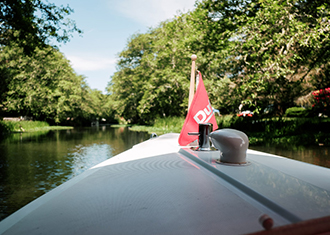 With well over 20 miles of freshwater canals, the North Bay to our east and the Pacific Ocean to our west, and a few lakes spread around our city, Ocean Shores is a water-loving destination. And whenever you choose to come, we have a local business ready and willing to serve you. Here's a quick look at the Ocean Shores Boat House
We Outfit. You Explore
That's the motto of the Ocean Shores Boat House, and it is wonderfully true. From boat rides to kayaking, traveling the waterways of the Shores is made easy at the Boat House. And their outfitting is not limited to exploration. They have you covered with additional equipment and plenty of gear to keep you as safe as possible on your vacation, honeymoon, work trip, or any kind of celebration across Ocean Shores.
But we don't come for the life jackets, we come for the toys! And boy do they have some great toys at the Boat House!
Did You Say Hydrobike?
Yes, we said hydrobike! The hydrobike is the best water bike on the market. Easy to operate, this human powered, highly efficient, wildly eco-friendly bike is fun for people of all ages, even the kids. Whether you're working on team-building activities, or looking to get in some fun exercise, racing your family members down the Grand Canal, or just looking for a fun way to explore the Shores, you have got to try out a hydrobike on your next trip to Ocean Shores. It's an experience you will not forget.
Voyaging Across Ocean Shores
But you have a big group, and you want an experience that everyone can enjoy together. Well, on the water, in Ocean Shores, that means that you are looking for duffy boats.
Whether you want tours of the area, or just a chance to get out on the water and explore the miles of canals, renting one of these boats is fun for as many as ten adults. You won't win any speed boat races, but if you are searching for the most epic leisure activity that takes you just off of the shores, this is surely the option that you will want to go with.
Kayaks and Paddle Boards
There is plenty of adventure at Ocean Shores Boat House too. Imagine kayaking for miles across the city, or paddle boarding down into the Pacific Ocean. Navigating the challenging tides and waves of our coastline makes for an excellent adventure! But if you're looking for calmer waters, then a day on the lake, paddle boarding from edge to edge is just what you're looking for. And if you are completely new to the idea of these water activities, do not worry! Dress for cold water, wear good sandals or water shoes, and ask one of the helpful staff at the Boat House to help get you fit for the right equipment. And as always, stay safe and wear a proper life jacket.
There's More to the Shores
We unashamedly love Ocean Shores, and the Boat House is a perfect example why. We are a city filled with people and business waiting to help you experience everything that the Shores has to offer. So come give us a visit, and tell the team at Ocean Shores Boat House that we said hi.
Click to learn about the many Water Activities at Ocean Shores!
Would you like to learn more about water activities in Ocean Shores?
Visit our water activities page and find a downloadable guide for all things water activities.