On the Beach – Amateur Sand Sculpture Contest
FRIDAY:
Form Finders Build a Sand Castle
10am-5pm the Form Finders Team from Olympia will create one of their famous sand sculptures. Come watch and pick up ideas and techniques for the contest on Saturday.
SATURDAY:
Amateur Sculpture Building Contest 9:30-10:30 – Free sand sculpture building workshop
11am-2pm – Sand sculpture competition
2pm – Judging and awards
Theme for this year: Treasures – There will be an award for the sand creation that best represents the theme and an award for the group that has the most fun.
Each team will be given a 15×15' square area to work with. The Festival will provide a 5-gallon bucket for carrying water. 5 people can be working at a time (you can rotate team members) and only sand, water, shells and other natural beach materials found on the beach that day can be used for construction. Forms can be used in the construction process but can in no way support the final structure. Hand tools may be used but use of power tools is not permitted. This is an amateur competition, professional "sand artists" are disqualified from winning prizes.
Registration: There is a $5 per person registration fee up to a maximum of $20. You can fill out the application linked above in advance or register at the Festival Info Booth on Friday.
This year we will be bringing back the professional sand sculpture contest. Stay tuned for more details!
The Story of Sand Drawing, by "Justin the Circler"
"Drawing and scribing geometry in the sand has ancient roots and was a catalyst to increased human intelligence eons ago. I know this, because when I first started drawing circles in the sand I was gifted with visions or memories that showed me the ancient practice of drawing on the ground and their methods. I often tell students on the beach they are standing on the first classrooms of humanity and we are partaking in one of the oldest crafts ever practiced. People would have drawn in the sand before counting numbers and possibly before language was used. Sand drawing is a way to connect with ancient humans and the art, tools, and methods have not changed in thousands of years. There is a purity in doing the exact action of ancient peoples and walking down their thought process. "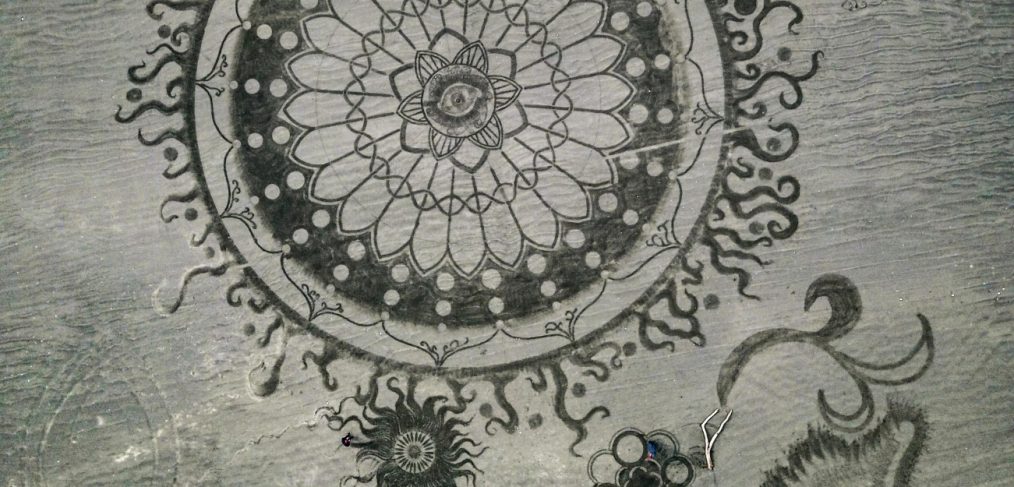 Justin the Circler – Justin the Circler has dedicated his life to learning the ancient craft of pure or sacred geometry and its endless related topics. A naturalist, philosopher, mathematician, inventor, carpenter, and artist, he has emerged as a messenger and teacher. Many sleepless nights spent contemplating, theorizing and notating original ideas to later find out his ideas are ages old but have been forgotten or even hidden. The Circler's goal is to bring these ancient ideas into the collective mind of modern society to bring forth a more holistic perspective regarding our past, present, and future. To access the beach, use the Chance a La Mer entrance next to the Shiloh. Once on the beach, the activities are to the left of the poles (south). Cars are not allowed past that area, but cars allowed to the right (north).