The Artistic Impulse at Ocean Shores
Art is self-expression, but it also plays a role in connecting people and the world. Art plays a vivid role in expanding creativity and the everyday life of individuals and society. The viewing of visual arts encourages an awareness of personalities and often our own cultural heritage as well, offering a view into other cultures, too. Experiencing art helps develop the ability to think, feel and act. The art of Ocean Shores is a reflection of our community and the many people who visit the shores.
Storytelling is one of the oldest forms of art. Picture stone age men and women gathered around a campfire inside a cave; sharing their adventures about wild animals and locations of plentiful berries and grasses. Recreating a hunt; drawing maps and images; acting out details of bravery; and commemorating the love of other family members all becomes magic as it touches all who listen and gaze. Performance art reaches back before ancient Greek theater. Homer told his tales of daring-do, which were repeated and repeated until the art of writing developed about twenty-five hundred years ago.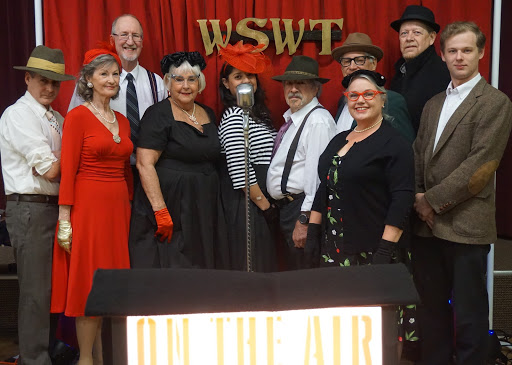 Greek theater is still with us in language and actual scripts. Over the years, theater has changed and adapted to our modern world. Plays have become films and films have become plays. Everything starts with stories and the actors who perform them. And community theater in Ocean Shores carries on the tradition. Young actors learn their skills and sometimes move on to larger audiences, while older actors still maintain their love and skill of performing before a live audience, no matter the size. At the heart of it all is community theater. And we cherish community theater in Ocean Shores.
Ocean Shores is proud to share Stage West Community Theater with the world. Each season is a chance to participate and welcome guests from all over the pacific northwest. Our local actors live for their time on on-stage. It's the same in every acting troupe around the world.
"Honest to God, this is the absolute best kind of moment. The auditorium lights are off except for ones over the stage, and we're all bright eyed and giggle-drunk. I fall a little bit in love with everyone." – Becky Albertalli, Simon vs. the Homo Sapiens Agenda
This is the tenth year of Stage West. The theater officers and board offer a wide variety of talent and history.
"I am just finishing a 6-year term on the Board of Tacoma Musical Playhouse and my third year as Board President there. I previously served as Secretary and Vice President on that Board as well. I look forward to working more closely with Stage West!" – Lorraine Hardin
"Well, I have always leaned toward the creative side of life. Through my childhood and early adulthood I was always drawing or painting something. In junior high I got involved playing bass guitar in a rock band and that continued for the next 20 years." – Ron Cooper
"I love comedy and improv and am so thankful to be cast in several comedic performances with Stage West. Who knew a quiet accountant by day is really a 'Rapper', the diabolical 'Ma Denny', a 'Crazy Aunt' and a 'Southern Drama Queen'?" – Pamela Nygaard
Stage West Community Theatre strives to present innovative and entertaining theatre experiences while creating opportunities for children and adults to develop talents in all aspects of theatre arts. 'A Doublewide Texas Christmas' in December 2018 set record attendance. Pamela Nygaard says "We were so surprised to see a large tour bus arrive from Rochester and Olympia organized to see our matinee performance after lunch at a local restaurant. I receive inquiries asking whether we will have a production while people are planning their visits and from locals who are anxious to know how soon tickets will be available for the next production. We teamed up with the annual June Ocean Shores Wearable Art Show. The show attracts artists from all over the state and proceeds from the show funds our youth programs. We also have mystery theatre events with the North Beach Artist Guild and the Chocolate on the Beach Festival. There always seems to be something fun to work on next."
According to a survey conducted by Nielsen Scarborough in spring 2016, over 47 million Americans attended a live theatre event within the past month. When we watch live theater we connect. We feel the emotions of the actors and we see ourselves. Community theater is alive and well in Ocean Shores and invites visitors to experience the fun and joy of our community and our theater.
Visual Arts – Traditional Arts at The Shores
The Coastal Interpretive Center at Ocean Shores features popular displays that include Native American artifacts and basketry, rock identification tables, and collections of shells and whalebones. There are displays about maritime history, Japanese tsunami debris still washing ashore and information about the history of Ocean Shores. Both natural and man-made objects are easily converted into art and decoration.
Additionally, The Gallery of Ocean Shores has expanded their local art center to include visual arts, 3D arts and performing arts. They encourage the development of art programs to spread art education into Grays Harbor/Ocean Shores community. They provide art classes and displays located in The Gallery and the adjacent Workshop and Studio 6 pottery facility. Two dozen featured artists create art in blown glass, jewelry, photography, water colors, acrylics, and pastels.
Mary Daniels-Lee is an Ocean Shores pastel artist. She loves the beauty of the ocean and the coast. She and her husband enjoy exploring the enchanted visions of Grays Harbor and the Olympic Peninsula. In addition to teaching at The Gallery, she loves beachcombing, bird watching, gardening and singing. Mary says, "The charm of our beach and coast inspires me. I like to encourage others to see the art around us and explore the connections and possibilities as we share."
Steve "Lumpy" Poole is fascinated by light and the contrasts of nature. (How could you not love someone with a nickname like "Lumpy".) He loves to capture nature's unique and wonderful compositions in black and white and color. Lumpy was born in California, grew up in Nevada and lives in the Northwest where he shares his landscapes with friends. "Steve says, "Ocean Shores is a beautiful part of the Northwest where a quiet community meets the wild of Washington. A perfect playground for a photographer."
If you enjoy living with or displaying art that warms your body and your heart, you should visit Beach Tyme Quilts. Beach Tyme is a bright, cheerful quilt shop featuring a spacious learning center where quilters of all ages and skill levels gather for classes, retreats, special events, displays, and just plain socializing!
Art is a year-long event in Ocean Shores
Besides the everyday art experiences of Ocean Shores, there are art events happening all year long: The Whale of a Quilt Show, the Fine Arts – Photo & 3-D Show, the Arts & Crafts Festival, and the Wearable Art Show. With Ocean Shores you can dream, participate, create, and add color to your life. Come explore the shores!